Our Collaborative Lenten Gift - Nuestros Pequenos Hermanos (NPH)
Special Second Collection March 17-18
Friday | March 9, 2018 | 21:37 PM
Lent's clarion call to love extravagantly is what this gift is all about. Each year, through our Collaborative Lenten Gift, we reach out as a community to one particular place of suffering, amid so many in the world. This year, we reach out to our friends at Nuestros Pequenos Hermanos (NPH) in Mexico, as they work to recover from last fall's devastating earthquake.
On September 19, 2017, a 7.1-magnitude earthquake struck Central Mexico. The earthquake struck very close to NPH's homes and schools in Miacatlán. Thankfully, none of the children, volunteers or staff were harmed, but the damage to their facilities was significant. Since that time, NPH has been working very hard to safeguard the physical and emotional integrity of each of their children. One important effort in that regard is the rebuilding of the boys and girls dormitories in Miacatlán, which were severely damaged in the earthquake. Our gift will be directed specifically to this effort.
Throughout Lent, in the bulletin, on the website, and through emails, we will share this story with you, as we prepare for our collaborative-wide Special Collection for Nuestros Pequenos Hermanos on March 17-18.
TELLING THE STORY
The most recent chapter appears first; scroll down for older entries.
March 18: Special Second Collection for Our Collaborative Lenten Gift
We invite you to participate in this outreach to our little NPH brothers and sisters in Miacatlán.
Donations are accepted with our second collection this weekend, online, or by mail to our parish office.
We thank you for your support, it is appreciated and will make a difference in the children's lives.
Please make checks payable to "St. Paul Parish", noting "Lenten Gift 2018" in the memo; we will total funds received from all sources and present one check to NPH. Donations may also be mailed to the Collaborative Business Office (39 Washington St. Wellesley, MA 02481) or dropped at either parish office during business hours. To donate online, please click the Online Giving link below (or on the home page of the website) and choose Quick Give:
March 11: An Update from NPH Mexico: Since the Earthquake…
February 26, 2018 – Mexico: Hipólito is a 9-year-old boy studying 3rd grade. September 19, 2017, will be a day he will never forget.


"That afternoon we were all very still, we already knew that something serious had happened. My friends and I only heard that the old chapel was badly damaged, and also the schools and the dining hall. Our caregivers explained to us what had just happened and tried to make sure everyone was calm, because there were some children who were crying. They were nervous or maybe scared, I guess. I remember there was no electricity that night and the whole hacienda (home) was very dark. Since our dormitories weren't safe to sleep in, we all slept together outside so we would not be afraid, and some of us had candles."

Starting that day, school was suspended for a few weeks. The teachers were at the home to carry out activities with the children to distract them. The psychologists gave support workshops to all the kids so that they could express their feelings, and they gave them reading materials and did relaxation exercises. The dining hall and kitchen had to be closed. We created a temporary dining hall and kitchen under large tents in the main courtyard. After a few weeks, classes resumed under tarps with blackboards hanging on the sides.

"At the beginning, we liked having classes there, it was something different. But after a while we got bored, it was hot even under the tarps. Besides, since everyone passed by, it was easier to be distracted and to start chatting with friends," says Hipólito of his experience in outdoors classes.

Fortunately, the schools have already been repaired and our children returned to their classrooms on January 31. "I am happy because we can have 'normal' classes now. We spent several months like that, and we thought it would take much longer to go back to our classrooms because they were very damaged."

NPH Mexico has taken big steps since the earthquake—thanks to generous donors—to help the children return to their classrooms. There is still a great need to repair the dining hall and kitchen as more than 400 children continue to eat outside. Some of the children's dormitories still need repairs, and many other structural issues to our home still need to be addressed. For the time being, we will continue rebuilding our facilities so that our children enjoy their days with dignity, and above all, in safe spaces.

The Collection for our Lenten gift will be taken up at all Masses next weekend March 17 & 18. As we embrace the three-fold Lenten discipline of prayer, fasting, and almsgiving, we invite you to participate in this outreach to our little brothers and sisters in Miacatlán.
March 4: A Devastating Earthquake
Last week, we identified the rebuilding of the boys' and girls' dormitories at the NPH facility in Miacatlan, Mexico as the project to which we would dedicate this year's Lenten gift from the Saint John-Saint Paul Collaborative. As in all of the homes sponsored by NPH, the children being cared for in Miacatlan have had tough childhoods. Many have lived in dangerous or unsanitary conditions, begged or scavenged for food, suffered abuse, or had no stable family life, and have lacked proper nutrition and health care.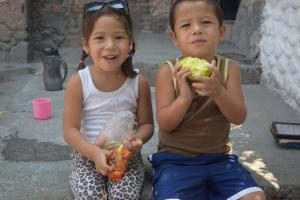 Imagine how thrilled each of these children must have felt when brought to the loving and familial atmosphere of Casa San Salvador in Miacatlan, which is 77 miles southwest of Mexico City. The Casa is an old converted sugar plantation and serves more than 400 children. Always bustling with activity, its facilities are extensive and offer a small town feel. The home features girls' and boys' dormitories, a healthcare clinic, a primary school, a kitchen, a cafeteria, athletic facilities, a library, and a chapel.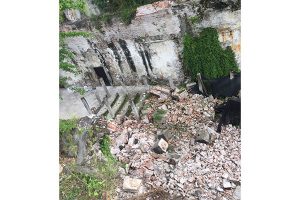 This wonderful environment has been compromised by the 7.1 magnitude earthquake of last September. In the middle school boys' dormitory, there are serious cracks needing repair before it is safe for them to return.
Currently, 160 boys are living in another dormitory in a space only fit for 80. The girls' dormitory needs repair to its sewage system before the rainy season begins. During significantly rainy days, eight inches of rain have been building up outside of their dormitory, resulting in over an inch of water coming into their rooms.
There are so many needy causes that need attention today that we had no shortage of opportunities from which to choose a recipient. However, the Service Commission chose NPH in Miacatlan both to have an immediate impact for good and also to further the relationship begun last year that has resulted in so many families in the Collaborative sponsoring a young boy or girl. As we embrace the three-fold Lenten discipline of prayer, fasting, and almsgiving, we invite you to participate in this outreach to our little brothers and sisters in Miacatlan.
March 4: Announcing our 2018 Collaborative Lenten Gift
Over the fall of 2017, our Collaborative heard much about Nuestros Pequeños Hermanos, (NPH), as we had visitors from NPH Guatemala. Many families hosted our NPH friends, and even more families signed up to sponsor children. This year, the St. John-St. Paul Collaborative has selected NPH Mexico for our 2018 Lenten gift.
On September 19, a devastating 7.1-magnitude earthquake struck Central Mexico. The earthquake struck very close to NPH's homes and schools in Miacatlán. Thankfully, none of children, volunteers or staff were harmed, but estimates of the damage to their facilities were significant.
Specifically, we will be contributing towards the rebuilding of the boys and girls dormitories. We hope to help NPH Mexico restore its facilities so they can continue their mission of transforming young people's lives.
THE STORY OF NUESTROS PEQUEÑOS HERMANOS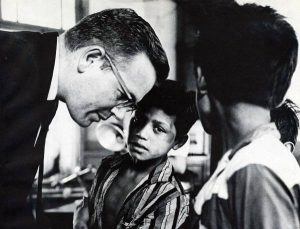 In 1954, more than six decades ago, in Cuernavaca, Mexico a young and hungry boy stole money from a church collection box in order to purchase food. He was arrested and due to receive a harsh sentence for his crime. However, the newly ordained priest of the church, Father William B. Wasson, asked the court to show mercy. He requested custody of the boy so that he could provide for the boy's needs, and the judge accepted. Throughout that year, Father Wasson received 32 more boys, and Nuestros Pequeños Hermanos was born.
Since then, NPH has been transforming the lives of thousands of orphaned, abandoned and disadvantaged children. One of the unique features of NPH is that when they accept one child into the home, they take all siblings so that the sense of family continues. It is not considered an orphanage; it is more like a large family. NPH provides a safe home and a loving forever family that offers security, vital nutrition, comprehensive healthcare, an education, and vocational training to break the intergenerational cycle of poverty. Currently, there are over 3,200 children in nine NPH homes in Latin American countries.
Latest News and Events
The latest news and upcoming events. Read More
Subscribe